VarSeq for Gene Testing and Rare Disease Diagnosis
VarSeq ® software helps clinical testing laboratories complete the time-critical and patient-centric workflows for gene testing and rare disease diagnosis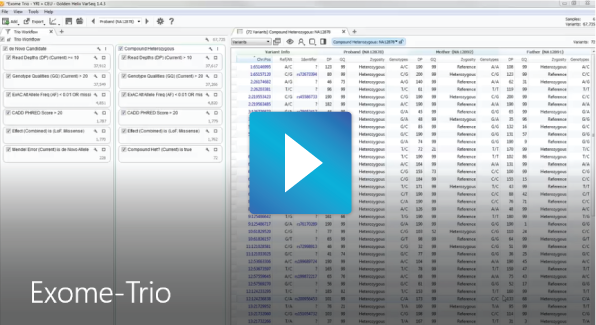 Comprehensive Workflows
The VarSeq clinical stack supports all of the steps neccessary to provide clinical genetic tests from the raw VCF variants to the signed out clinical report. VarSeq's flexibility allows you to customize workflows to the individual gene panel or exome test including:
Define the public and institutional annotation souces that are provided
Filter on variant level QC metrics
Test-specific filtering to provide one or more filtered list of variants to be interpreted
Annotate against internal catalogs of previously observed variants with the use of built-in variant assessement catalogs either locally or centralized with your own VSWarehouse server
Customize a per-test report with both auto-filling from your project data and inputs of the Variant Scientist to classify and interpret variants
Supported Genetic Tests
Diagnostic testing is used to identify the presence or absence of causal genetic variations for specific diseases. Whether targeted gene or comprehensive exomes or genomes, VarSeq supports streamlining diagnostic testing from VCF to clinical reports.
Predictive and pre-symptomatic genetic tests are designed to identify hereditary gene changes that can increase the lifetime risk of developing diseases. Similarly, Carrier Testing informs potential parents of the presence of recessive variants they may pass on to their offspring. Often these tests require a highly automated workflow that can be conducted in a high-throughput manner in order to be economically viable. VarSeq's command line workflow runner, VSPipeline, can provide your lab with an automated testing pipeline that combines integrated visualizations and clinical report generation, enabling the efficient use of the laboratory technicians and signing out MD time.
Newborn screening is used to test babies soon after birth to identify highly penetrant variants for certain diseases known to cause problems with health and development. Over time, the databases of relevant variants used in newborn screening may change. VSWarehouse allows your lab to archive genetic variants and update their annotations with potential notices to revisit findings as the public and institutional knowledge of variant outcomes improves.
Rare Disease Diagnosis
VarSeq includes first-class support for the more complex workflows associated with discovering the causal variants of rare disease. This includes using related samples in trios and quad analysis, algorithms that detect inheritance patterns of variants, ranking of rare patheogenic variants by their relevance to the phenotype terms provided by differential diagnositics and the integration of the public and premium annotations sources including:
Public Annotations

ClinVar updated monthly
ExAC Exomes Variant Frequencies
1000 Genomes Phase3 Variant Frequencies
dbNSFP Function Predictions including SIFT, PolyPhen and conservation scores of GERP and PhastCons

Premium Annotations:

CADD pathogenicity scores
OMIM updated monthly and available at the gene and variant level
VarSeq ® Software is intended for Investigational Use Only. The performance characteristics of this product have not been established.