VarSeq for Cancer Diagnostics
VarSeq ® software enables breakthrough discoveries in cancer diagnostics by supporting gene panel testing and whole exome and genome analysis.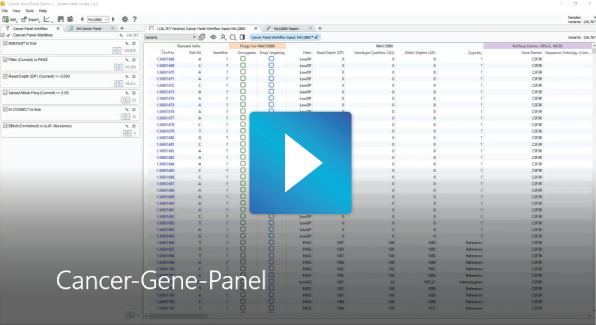 Support for Cancer Gene Panels
VarSeq includes the specialized features needed for cancer workflows. Allelic ratios are automatically calculated to detect somatic mutations at low tumor fractions. Additionally, variants can be annotated precisely against COSMIC, fully utilizing the many somatic mutation annotations present in the database. Finally, variant blacklists can be imported to filter variants that your lab has found to be inaccurate or not actionable.
Whole Exome and Whole Genome Analysis
VarSeq enables cutting edge cancer analysis by easily supporting whole exome and genome sized datasets.
Automate Your Pipeline
VarSeq's command line runner, VSPipeline, works with your existing bioinformatics pipeline to leverage VarSeq's powerful and flexible workflows.
Tumor/Normal Workflows
VarSeq provides complete support for Tumor Normal workflows. Samples can be imported as matched pairs, allowing germ line variants to be filtered out in a single step. Multiple paired samples can be imported in a single project enabling fast and accurate analysis in settings where reproducibility is critical.
Included in VarSeq is the Catalogue of Somatic Mutations in Cancer or COSMIC. COSMIC is a population catalog containing somatic mutations related to human cancer. The release of COSMIC V71 integrated The Cancer Genome Atlas, making it the most compressive catalog of somatic mutations in history. VarSeq also provides the gene level annotations with relevant summary and curated oncology details provided by COSMIC. COSMIC breaks out each sample-variant pair into a record, and VarSeq provides the fields in COSMIC with relevant hyperlinks and formatting to enable easy filtering. As with all of our public annotation libraries, COSMIC is updated regularly, providing you with the most recent and relevant data.
MedGenome's OncoMd Integration
VarSeq offers the ability to access OncoMD's comprehensive knowledge base of over 2.3 million annotated cancer variants captured from peer-reviewed scientific publications by a team of biomedical curators. After filtering variants of interest in VarSeq, you can quickly prioritize actionable variants using OncoMD and make clinical decisions based on the sensitivity of variants to approved drugs and enrollment to open clinical trials.
Access to OncoMD's extensive database is quickly becoming a best practice and will soon become an industry standard. The information provided meets the needs of both clinicians and researchers by providing actionable mutations linked to approved drugs and potential clinical trials, while allowing for the investigation of cancer at the molecular level, enabling discovery and therapy development.
VarSeq ® Software is intended for Investigational Use Only. The performance characteristics of this product have not been established.