VS-CNV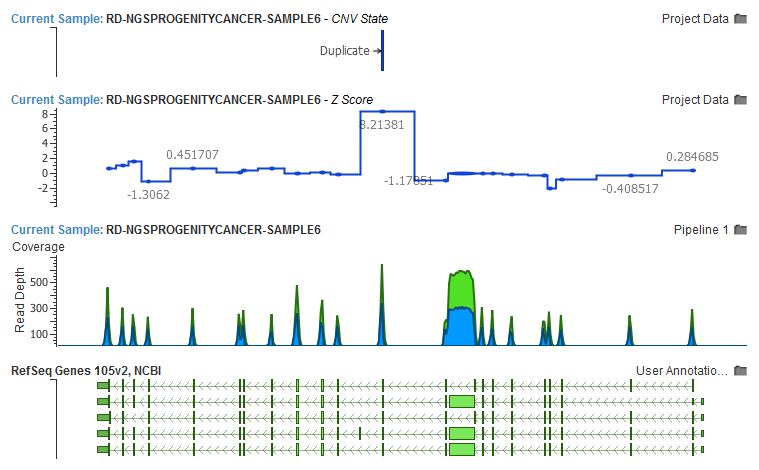 Directly call CNV's in target regions and avoid the cost and turn-around time of additional CMA or MLPA testing.
Clinical genetic testing often requires looking for and interpreting Copy Number Variants (CNVs) as well as small point mutations.
While NGS based gene panels and exome tests have become the best practice assay for many types of genetic tests, CNVs must be acquired using a different paradigm.
Currently, Chromosomal Microarrays (CMAs) or specialized genotypic microarrays are heavily used to assay large CNVs. Although very capable, these tests add an additional per-sample fee and are limited to detecting large gene or multi-gene sized events (10kb+).
Golden Helix has devised a novel CNV calling algorithm that operates on existing clinical NGS gene panel, exome and shallow whole genome NGS data.
Along with the calling of CNV events, the entire workflow is managed inside VarSeq's clinical interpretation workflow. This integration enables CNV events to be considered alongside the annotated and filtered NGS small variants and incorporated into clinical reporting using VSReports.
CNV Calling in clinical exomes and gene panels
VS-CNV is able to detect CNVs in your NGS data sets. It ascertains multiple metrics from samples along with matched controls to make CNV calls with high and consistent accuracy and sensitivity to meet the thresholds for clinical validation and adoption.
With VarSeq VS-CNV, the following can be achieved for germline and cancer tests:
Call CNV events that range from 200bp single exons to multi-megabase and chromosomal aneuploidy such as trisomy 21 and XXY with a single algorithm
Replace multiple assays such as MLPA, qPCR and CMAs with a single NGS test
Use the NGS data already generated to call small SNPs and InDels variants to call CNVs
Integrate Loss of Heterozygosity (LOH) with CNV calling to distinguish Copy-Neutral LOHs from LOH events that support Heterozygous Deletion CNV calls.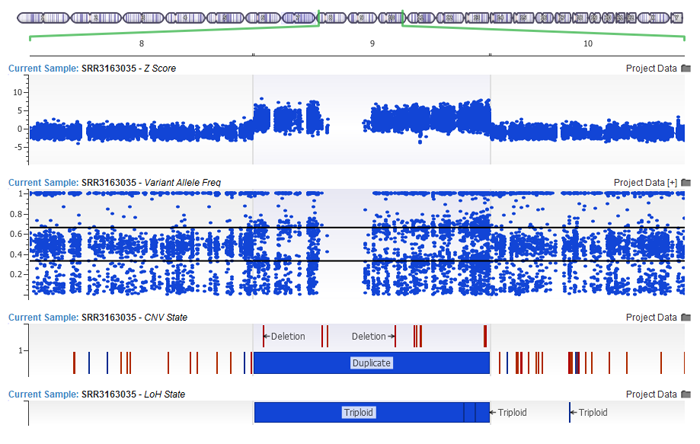 This whole chromosome duplication was also detected with supporting evidence from the Triploid state called by the LoH algorithm.
When you combine the power of VarSeq with the VS-CNV algorithm, you can provide a complete clinical solution that addresses the requirements of a comprehensive genetic test, including:
Integration of CNVs with the variant analysis and interpretation workflows including annotation, filtering and clinical report authoring
Gender aware handling of sex chromosomes, as well as gender inference
Lab specific algorithm tuning to match the sensitivity/accuracy needed for the library prep and sequencing parameters of each genetic test
Multiple levels of QC metrics and flags provided on samples and event calls to focus interpretation and ensure high-quality sample results
Integrated visualization with the powerful GenomeBrowse engine, allowing for comparisons between the samples CNV and LOH events with:

1kG Phase3 – CNVs and Large Variants
ClinVar - CNVs and Large Variants
ExAC XHMM CNV calls
CIViC annotated CNVs that inform targeted molecular therapy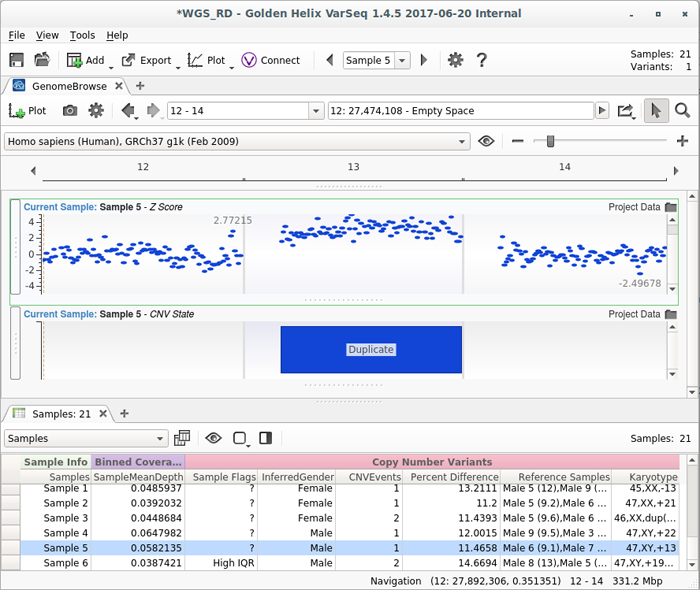 Whole chromosome duplication called on an ultra-low read depth genome with an average read depth of just 0.05 resulting in a reported karyotype of 47,XY,+13.