VS-CNV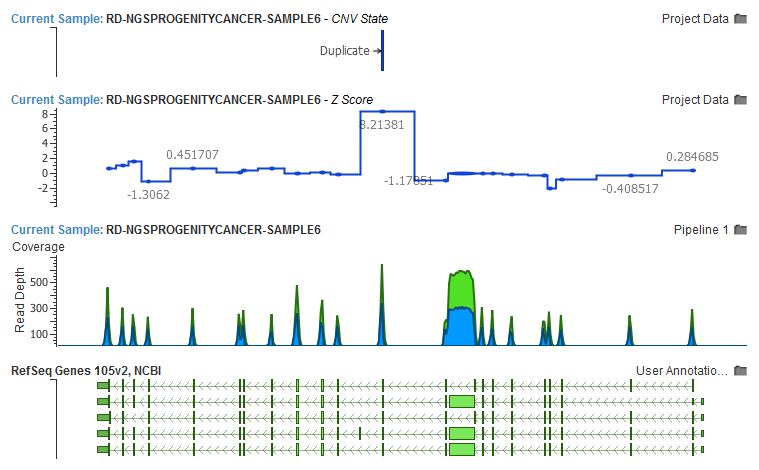 Directly call CNV's in target regions and avoid the cost and turn-around time of additional CMA or MLPA testing.
Clinical genetic testing often requires looking for and interpreting Copy Number Variants as well as small point mutations.
While NGS based gene panels have been adopted as a reliable assay to obtain all common and novel point mutations for a set of genes, copy number variants must be acquired using a different paradigm.
Currently, Chromosomal Microarrays (CMAs) or specialized genotypic microarrays are heavily used to assay large CNVs. Although very capable, these tests can be more expensive than gene panels and are limited to detecting large gene or multi-gene sized events (10kb+).
Golden Helix has devised a novel CNV calling algorithm that operates on existing clinical NGS gene panel data.
It ascertains multiple metrics from samples along with matched controls to make single-exon sized CNV calls with high and consistent accuracy and sensitivity to meet the thresholds for clinical validation and adoption.
Along with the calling of CNV events, the entire workflow is managed inside VarSeq's clinical interpretation workflow. This integration enables CNV events to be considered alongside the annotated and filtered NGS small variants and incorporated into clinical reporting using VSReports.
Provided benefits of CNV Target Calling in VarSeq:
Complete all variations under one workflow
Save cost and turn-around time by avoiding CMA or MLPA testing to call CNVs
Detect single-exon sized CNV events up to whole chromosome
Gender aware handling of sex chromosomes
Tunable algorithm sensitivity to find the right balance between sensitivity/accuracy that meets your testing needs
Focused interpretation on high-quality events by providing multiple levels of QC metrics and flags to easily detect poorly performing samples and/or gene regions
VarSeq ® Software is intended for Investigational Use Only. The performance characteristics of this product have not been established.