YOUR DATA. YOUR ANALYSIS. YOUR DISCOVERY.
SNP & Variation Suite is a powerful analytic tool created specifically to empower biologists and other researchers to easily perform complex
analyses and visualizations on genomic and phenotypic data. With SVS you can focus on your research instead of learning
to be a programmer or waiting in line for bioinformaticians.
| | |
| --- | --- |
| SVS includes a broad range of analytic tools built to empower you to quickly and easily perform quality-assurance and statistical tests for genetic association studies. | SVS gives users access to the latest annotation sources for filtering and annotating rare variants from secondary analysis pipelines to obtain a short list of potentially pathogenic variants. |
| SVS provides the ability to perform genetic prediction including various means of defining the relationship between samples, the ability to validate models and visualize the results. | SVS includes quality-assurance utilities, annotation of variants and collapsing methods for region-based association and other statistical frameworks for analyzing variant data associations. |
| SVS offers the ability to process CNV intensity data from various platforms, identify regions of copy number variability, perform statistical tests on the copy number results, and visualize normalized intensity data overlaid with the identified copy number regions. | SVS offers advanced analysis tools designed to detect differences in expression profiles of RNA-Sequencing data between groups. Read count normalization, QA, differential expression with DESeq, and other statistical tests can be performed. Visualize data and results with dendrograms, heatmaps, as well as p-values and other statistics in GenomeBrowse. |
| Optional Add-on: | Free Collaboration Tool: |
| The SVS PBAT add-on delivers an exclusive array of advanced statistical routines for the design and analysis of family-based SNP and CNV association studies. | Not everyone needs the full analysis capabilities of SVS, but would still benefit from viewing a colleague's projects, results, and plots... for free! |
Core Features of SVS:
Data Management
Efficiently handle micro-array and whole-exome data for thousands of samples on a desktop computer
Scales to whole-genome and imputed datasets
Projects can be password protected and locked for security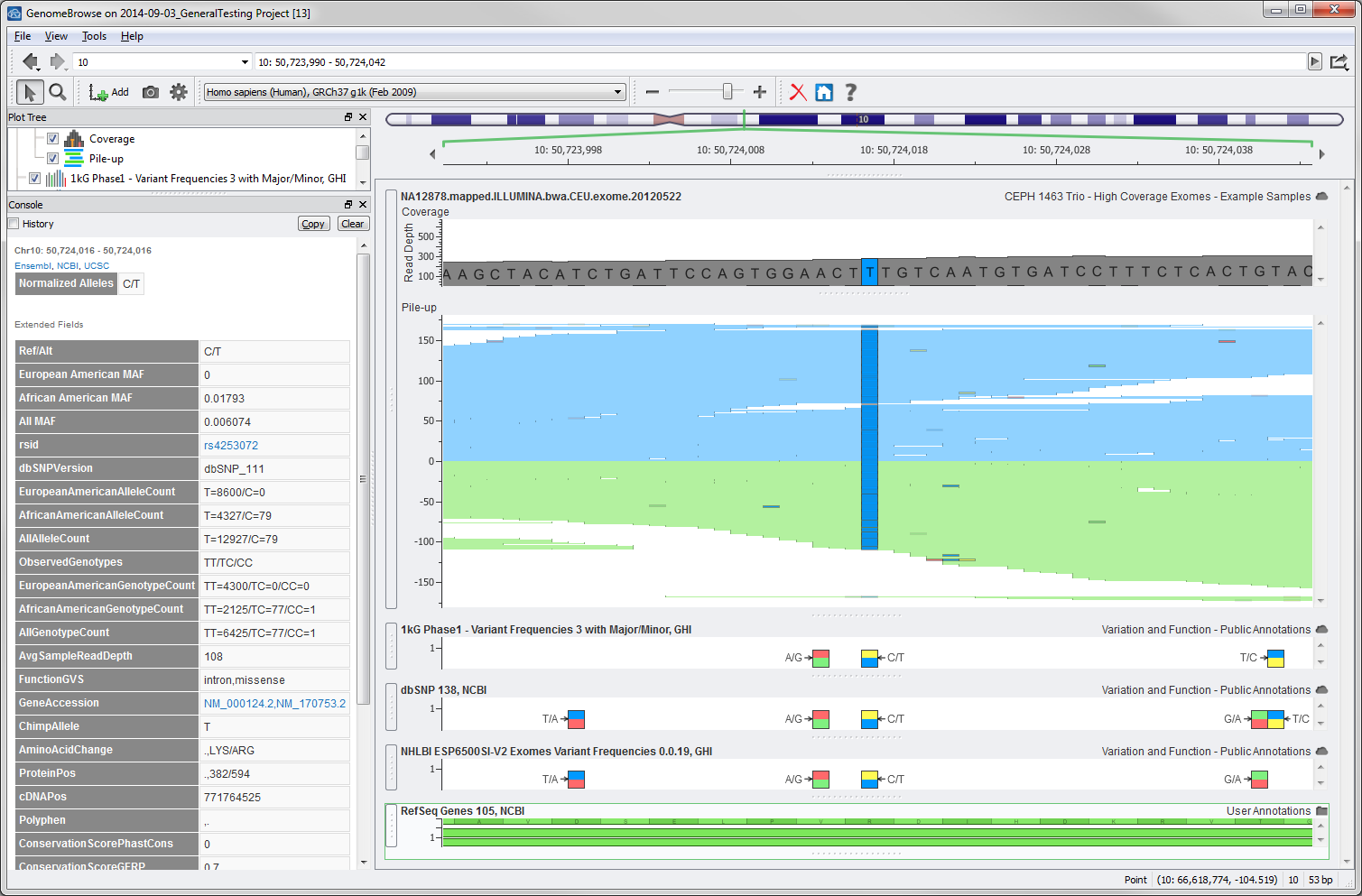 GenomeBrowse Genomic Visualization
Display p-value results, raw data and annotation sources all in the same view
Natural pan and zoom controls quickly allow you to zero in on a region of interest
A smart labeling system balances clarity with information density
Full font controls allow for editing titles of plots
Integrated search and location bar allow for jumping quickly to a region or gene of interest
Supported Data Formats
Text Files
Excel XLS and XLSX
Affymetrix CEL, CHP, CNT and CHP.TXT files
Illumina Final Report Text Files, Matrix Text Files, iControlDB Data
Plink PED, TPED and BED Files with supporting files
Agilent Files

NimbleGen Data Summary Files
VCF Files version 4.0+
Impute2 GWAS Files
HapMap Format
MACH Output
And over 50 other formats

Supported Operating Systems
Windows 7, 8, Server 2008+
Mac OSX 10.7+
Linux Ubuntu Precise 12.04+ and compatible versions
Red Hat Enterprise Linux (RHEL) and CentOS 6+
Visualization Tools
Histograms
XY scatter plots
Pie charts

Linkage Disequilibrium
Heatmaps
Side-by-side box plots

NxN scatter plots
Stacked histograms
Up to 5-way Venn diagrams
Numeric Analysis Methods
Principal component analysis for integer or quantitative data
Linear and logistic regression with optional covariates
Wave detection/correction
Matched pairs T-Test
Fisher's Exact Test for binary predictors and a binary dependent variable

Derivative log ratio spread
Percentile-based Winsorizing
Segmentation of log-ratio data to detect copy number regions
Standard sample statistics to summarize columns or rows of data
Support and Extensibility
Technical manual with methods fully documented and explained
Customer support available by phone and e-mail
Training available on live web demonstrations
Full archive of webcasts including applications and software overviews
On-site workshops and training sessions are available
Python scripting is available to quickly add needed features
Python scripting tools are available for users to write their own add-on scripts.