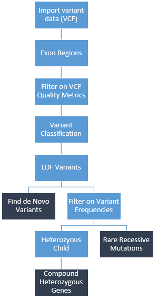 Golden Helix designed the SVS user interface to allow nearly unlimited flexibility for researchers to explore data and pursue diverse workflows. However, if an SVS user has a standard set of procedures that are followed repetitively with many data sets, it is valuable to automate the process to reduce human error and inefficiencies.
Working with our highly-trained staff of computer scientists, Golden Helix will design and develop for you a professional grade, "plug-and-play" software tool that automates your workflow according to your exact specifications. It's your tool.
Value
Institute repeatable, consistent processes driven by compliance with established protocols.
Improve quality of work and reduction of liability in clinical environments.
Dramatically accelerate the training of new and existing SVS users.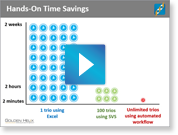 What Workflows can be Automated
Virtually any workflow designed in SVS can be automated. The most requested workflows for automation are complex data processing procedures and whole genome/exome variant analysis for single samples or nuclear families.
For both the research side and clinical applications, it is common for standard operating procedures to exceed 100 pages in length, encompassing many distinct steps in a set of workflows. The process may return valuable results, but it is understandably difficult to teach new users to perform the entire workflow accurately. And the stakes are obviously higher on the clinical side.
No matter the workflow or complexity, chances are it can be reduced to just a single or few steps.
Our Professional, Collaborative Approach
As with all offered services, our highly trained staff of bioinformaticists, computer scientists, and statistical geneticists work collaboratively with you, involving you in as much detail as desired. We are also professional: we listen carefully to your requirements, work with you to create accurate specifications, develop and test workflows the same way we do our commercial products, and collaboratively test the product with you to make sure it works seamlessly in your environment.

Our approach for developing a custom automated workflow begins with working closely with you in order to learn about your needs and develop a workflow specification.
Next, we will create a document and workflow diagram outlining the specifications and requirements for the custom automated workflow.
Then we will build a workflow prototype.
This prototype will undergo the same thorough internal testing that we apply to our commercial products and comes with complete documentation.
Finally, the finished product will be tested with you to make sure it works seamlessly in your environment.
At the end of the process, you will own a professionally engineered, "plug-and-play" software tool that can be run on any computer from within SVS using a single, easy-to-understand dialog. The automated function will return all pertinent results, and automatically generate any required visualizations or reports you specify. With transparency in mind, all intermediate results populated at each step in the workflow are available in the SVS project and can be examined for verification at any point upon completion.
You will also receive technical support and standard updates to the workflow for one year.
SVS vs Automated Workflows
Trying to decide if SVS or an Automated Workflow makes more sense for your organization? Download our guide on Choosing the Right Solution for Research and Clinical Analysis »