SVS Certification Program and Training
The proliferation of genomic data has exposed a new class of researchers, clinicians, and other front-line healthcare workers to the complexities of genomic data, increasing the demand for analytic expertise throughout an organization.
It is not scalable to hire out of this dilemma. Existing staff need to be empowered to competently perform analyses themselves. And easy-to-use platforms such as SNP & Variation Suite (SVS) are just the beginning.
The SVS Certification Program delivers a highly-focused and scalable "on the job" training regimen that can strategically and cost-effectively build an organization's genomic analytic capacity.
Value
Dramatically accelerate the training of new and existing SVS users.
Institute repeatable, consistent processes driven by compliance with established protocols.
Improve quality of work and reduction of liability in clinical environments.
Increase in-house analytic capacity, reducing hiring burdens and reliance on 3rd parties.
Produce more efficient work and faster project completion times.
Reduce overall costs.
Certification Overview
The SVS Certification Program provides comprehensive scientific knowledge and applied SVS product training that enables SVS users to maximize their analytic productivity using standardized, best practice workflows.
Certified users of SVS develop a deep understanding of the software's design and capabilities and how it fits in the broader bioinformatic ecosystem. They understand how seemingly disparate data management and analytic functions in SVS can be used together to create powerful workflows in basic research or translational and clinical settings.
Structured as focused "on the job" training, certification enables trainees to improve their analytic skillset much more quickly than the ad hoc learning that takes place today, while concurrently producing higher quality results from their individual projects.
Certified experts are also available to support and potentially certify other users in the organization.
Requirements
SVS certification not only requires a deep understanding of the software but also the underlying science and other factors that may influence decisions made during routine usage of SVS. It is expected that prospective trainees will already have a background in statistics, biotechnology, bioinformatics, or molecular biology/genetics; ideal candidates will show basic competency in several of the areas.
The first phase of the certification process is "Knowledge Factor" training, which focuses on concepts drawn from these and related scientific fields of: Statistics and Statistical Genetics, Molecular Biology and Genetics, Biotechnology, and Bioinformatics.
The second phase of the certification process is "Practical Factor" training, and focuses on applied use of SVS within the actual applied setting of the trainee.
Levels
There are two levels of SVS certification: expert certification and end-user certification.
Expert
The expert certification emphasizes workflows that require using many functions in sequence to accomplish complex data manipulations. An expert fully understands SVS and how it fits within the broader bioinformatics ecosystem, has extensive knowledge of SVS functionality, and is capable of devising new workflows to solve novel problems. This person is also capable of certifying others at the end-user level, and is essentially capable of handling SVS support within an institution.
End User
A certified SVS end-user understands the breadth of SVS functionality and how it fits within the broader bioinformatics ecosystem. This person is competent in using the major components of the software for genomic data analysis. This person is able to complete most analytic tasks in the software without referring to support materials, and will likely view SVS as their primary tool for most applications. Practical factor training for end-users may be customized to the needs of the institution.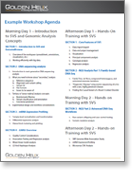 Training Workshops
If a full-scale expert certification is not what you are looking for, but you or your staff need a good thorough introductory training to SVS for a larger group of users, then an on-site training workshop might be a good place to start.
Make no mistake, on-site trainings are not a walk in the park. Though the format can be modified, on-site workshops are typically two days in length.
The morning of the first day starts by educating trainees on several of the bioinformatic and statistical genetics knowledge factors as outlined in the certification program. Live demonstrations are also given on how SVS can be used for various applications. The remaining one and a half days is dedicated to hands-on instruction where trainees will walk step-by-step through a range of beginner, intermediate, and advanced workflows in SVS.