VarSeq for the Clinic
VarSeq ® clinical stack will take your analysis from VCF to clinical report in a seamless and integrated fashion. Create and lock down workflows in VarSeq to run a high-throughput environment in VSPipeline and centralize the storage of all your genomic data in VSWarehouse.
Repeatable Workflows
The same automated workflow can be used for each batch of samples, making VarSeq ideally suited to high-throughput environments. Real-time filtering gives you the power to quickly prototype and tune analysis workflows to the specific gene panels that your lab uses. Once the appropriate set of filters have been found, the workflow can be saved and applied to future sequencing outputs without having to re-enter any parameters.
Coverage Statistics
Coverage analysis is an industry best practice for analyzing NGS data in the clinic. It informs the clinician that a particular region of interest is adequately covered by the sequencing process. Consequently, this statistic ensures that the data being analyzed is of high enough quality to support the test results being returned to the physician. Coverage analysis confirms that called variants are in fact real. It also ensures no variants went undetected in tested regions due to an inadequate number of reads.
VarSeq provides coverage metrics in two forms. First, each variant displays data about the region in which it resides. This binding allows variants from suspect regions to be flagged or filtered out, which can help to prevent false positives. Second, each region in the BED file can be examined. This mode of analysis ensures that all the targeted regions were sequenced, which is crucial to preventing false negatives.
Statistics generated:
Average depth of coverage
Minimum read depth
Maximum read depth
Percent of bases in a region meeting different coverage thresholds
Clinical Grade Variant Annotations
Included in VarSeq is functionality similar to SnpEff or Variant Effect Predictor. Each variant is mapped to all overlapping transcripts and information about the region where it is located (exon, intron, intergenic, etc.), sequence ontology (frame shift, synonymous, etc.), and HGVS notation (g dot, c dot, and p dot) is provided. You can chose to filter against the highest-impact annotation for each variant or the entire set of variant-transcript interactions.
Multiple Sample Support
VarSeq can import any number of samples at one time. Using the VCF files already produced by your pipeline, all the variants found in each sample are imported into the program. Each sample is automatically annotated according to any of the pre-configured workflows that you have created. The variants can then be reviewed in aggregate or by sample.
Track Variants Across Projects
Assess the impact of variants and add them to a personal variant database. Use the variants in your database as an annotation source to reference your previous assessments in future samples. Easily build up custom white or black lists for variants to be sure that important mutations are always highlighted. Multiple database back-ends are supported to accommodate any size lab and enable access for all lab members.
Control the Annotation Library
Your results are driven not only by your set of input variants, but also by the data sources you use to annotate those variants. Modifying either can cause your findings to change. To keep the ground from shifting underneath your analysis, Golden Helix is committed to providing access to past annotation databases as well as curating the latest annotations as they become available by data providers. Furthermore, the annotations used are stored in your project so there is never a question of whether a newer version of a database has changed your previous results. Take control of your data and never be left wondering again.
Visualization Provides Confidence
Since GenomeBrowse is built into VarSeq, it is easy to verify coverage across your amplicons. Simply add your BAM and BED files to your project and inspect the pileups directly. GenomeBrowse provides the context you need to have confidence that your upstream sequencing pipeline is working correctly.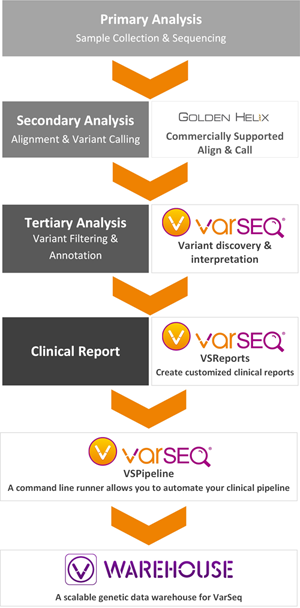 VarSeq ® Software is intended for Investigational Use Only. The performance characteristics of this product have not been established.