Your Data. Your Analysis. Your Discovery.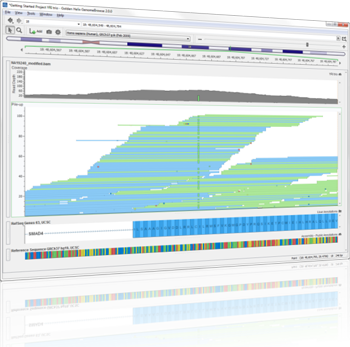 GenomeBrowse
provides an intuitive and powerful way to explore your DNA-seq and RNA-seq pile-up and coverage data. But why stop at exploration?
If you like GenomeBrowse, it's time to take your research to the next level with
SVS!
GWAS eBook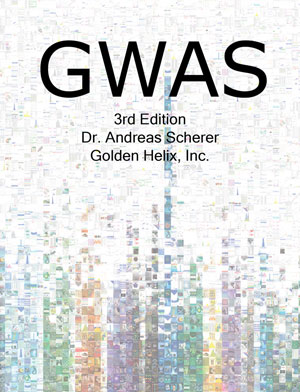 GWAS
by Dr. Andreas Scherer
From Exploration to Analysis
SVS takes you from exploration to analysis by combining the intuition and power found in GenomeBrowse with the latest advances in qa, variant classification, and variant filtering, allowing you to quickly target the meaningful variants you are looking for.
SVS features:
Quality Assurance (QA) ensures your data is of the highest quality and your results aren't spurious. SVS includes all of the standard QA methods for sequence data such as screening for poor read depth and other quality scores that come with your variant call files.
Variant Classification gives you insight into the variants that are most likely to have functional affects. SVS allows you to easily classify your variants based on their potential effect on genes by examining variant and gene transcript interactions.
Variant Filtering can be daunting. SVS arms you with various gene tracks to determine whether a variant is in an exonic or non-coding region, public database probe tracks to remove common variants, and the db NSFP track with functional prediction scores from a variety of sources, allowing you to easily filter and annotate your variants. All this in a simple, user friendly diaglog that can pull tracks from the cloud or local sources and let you prioritize the order in which variants should be filtered.
Find out more about the DNA-Seq Functionality in SVS »
A Seamless Transition
Learning to master a new piece of software can be frustrating and time consuming, and it can take you away from your research. Luckily, SVS and GenomeBrowse visualization capabilities were cut from the same cloth. You will experience the same interface and user interaction that you have come to know and expect from GenomeBrowse, making your transition to SVS a breeze.
World Class Bioinformatic Support
If there is one common thread found between SVS customers, it is their praise for the Golden Helix Bioinformatic Support Team as it is truely top notch. The Support Team consistently goes above and beyond to make certain that SVS customers know how to use the tool and all of its features to complete their research. From assisting in data import to answering technical questions, they take pride in providing unparalleled support.
Find out more about the support that comes with SVS »


SVS Software is intended for Research Use Only. Not for use in diagnostic procedures.